On the outside, the olive tree may seem like any other tree. Green leaves, wooden trunk and thin branches. But this humble tree has far more significance than one would imagine, for it has been one of the greatest driving forces of the Jordanian economy for hundreds of years.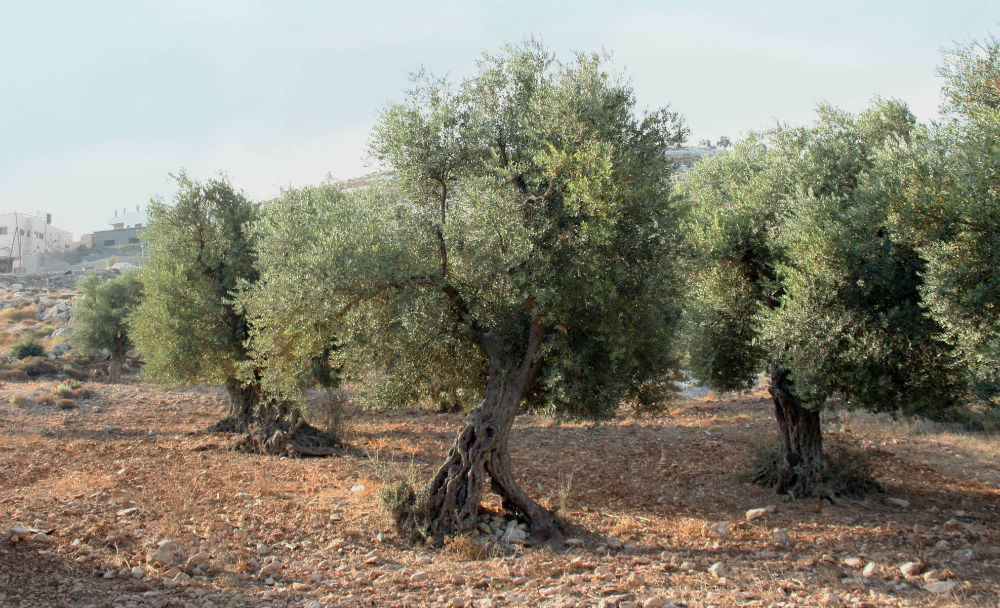 USAID Local Enterprise Support Project's (LENS) support to Zyoud Olive Oil Mill helps numerous local farmers grow and thrive.
Olive trees have a unique place in the shared history and beliefs of Jordanian people and the people of the Levant. Apart from their religious allegories, olive trees are symbols of resilience and resistance, attachment to one's land, and are considered blessings from God.
Jordan, especially, has a strong kinship to this beloved tree. The trunks of olive trees, which were planted by the Romans in the Jordanian north, stand witness to the country's history and the history of its people. And since the dawn of the country's existence, it has taken pride in its national production of olive oil, which competes with the world's best brands. In fact, Jordan comes in the eighth place among olive-producing nations, with 20 million olive trees supporting 180,000 families. And that is where the story of Fayyad Zyoud begins.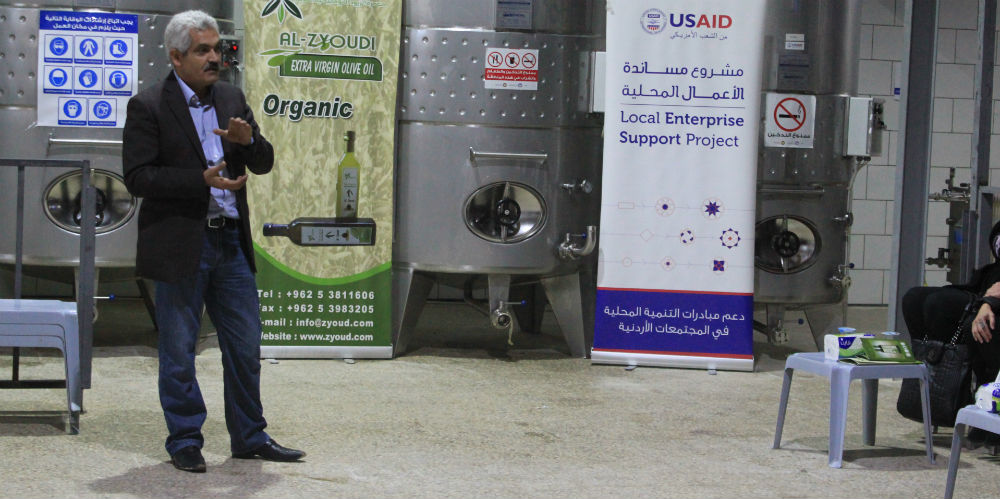 28 December 2016 - Mr. Fayyad Zyoud talks to a group of local farmers about USAID LENS support in the Zyoud Olive Oil Mill in Azraq
---
In the small town of Azraq, agriculture did not seriously take off until the late 1960s. Azraq had ample water sources and its people, including Fayyad Zyoud's family, relied for a while on the steady stream to thrive and reach self-sufficiency. "However," Zyoud said, "in the early 1990s the water levels sank and the people of Azraq started relying increasingly on fuel energy." There were about 700 farms in Azraq, and by the end of the decade, only 400 remained because of the high energy prices. "With the worsening of the environmental and economic situation," Zyoud informed us, "the number of trees in Azraq dropped from three million to a pitiful 1.5 million."
Faced with such drastic circumstances, Fayyad Zyoud sought support from the USAID Jordan Local Enterprise Support Project, to enhance the supply chain of his business and support the local olive farming community in Azraq.
With the grant, Al-Zyoud Olive Oil Mill was able to purchase filtering and olive picking machines. "There is only one other oil pressing mill in Azraq," Zyoud said, "and it does not have a filtering machine." All oil stored in the mill undergoes a taste test and a chemical test, maintaining consistency and quality. "What is so great about the machines," Zyoud added, "is that they reduce cost and increase profit for farmers. They are also a much more humane method of work than handpicking."
With all the obstacles and lack of resources that local olive farmers in Azraq face, Fayyad Zyoud decided to support these farmers with the grant money he received, starting with offering them training programs that covered necessary skills such as olive oil tasting, olive picking, olive growing, etc.  
"I can't tell you how much the support we've received helped me personally in my day-to-day work." Said farmer Mouayad Radwan". "I learned things I never thought I'd learn from the trainings, especially from the olive oil tasting workshop that taught us how to identify flavors, aromas and quality of olive oil through discussions, exercises and practical tasting sessions."
Mr. Zyoud is also allowing farmers to use the olive picking machines for a very low price to make their work a little easier and help speed up the process of olive picking. Farmers were also given 100 plastic containers each to store olives properly instead of storing them in bags that normally destroy the harvested olives.
"We used to pick around 30 to 40 thousand olives per day, but now with the introduction of these machines, we collect 350 to 500 thousand olives every single day", said one of the farmers.
"These farmers are producing some of the country's finest olives" said Mr. Zyoud. "I'm saying that in full confidence because they've been trained by the hands of experts and are using some of the best machines and equipment in the industry. So what we do to support them is that we buy olives from them at a much higher price than what they normally get from other olive oil mills. It's good business that works for both ends. That's how you grow an economy. It's as simple as that!"